Pedelaus
Pedalaus_1_Ch24.png

ペーデラ
Pēdera
Vital Statistics
Gender
Male
Status
Status
Deceased
Country
Lusitania
Position
Count
Bishop
Physical Attributes
Hair Color
None
Debut
Manga
Chapter 24
Pedelaus (ペーデラ, Pēdera? ) is a Lusitanian count, bishop of the Church of Yaldabaoth and a member of the court.
Appearance
Edit
Pedelaus is a muscular but elderly man who has a moustache and a chin curtain beard. He is bald. He wears the standard Lusitanian army garbs and wears a crucifix on his neck.
Personality
Edit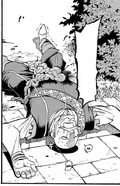 Pedelaus is a strongly follower of Yaldabaoth's faith, who doesn't show remorse in killing babies, loving to describe how he sadistically killed a family of heathens. He has a bad temper.
Pedelaus was a Lusitanian Count, stationned in the City of Ecbatana, conquered from the Parsian and a well known man for his fanatical following of Lusitania's religion and his hard temper. Walking completely drunk in the street of the capital of Pars, telling to other Lusitanians his service record, he feels a pressing need and separate from the other to urinate. However, Pedelaus is killed when a hand coming from the ground, holding a dagger, disembowel his belly.
The deceased count fall on the ground, and another lusitanian soldier is killed when he try to strike down Pedelaus's killer. His death lead Archbishop Bodin to order the Knights of the Temple, Bodin's loyal troops garrisoned in Maryam, to go the Ecbatana to einforce order, a political move that outmaneuever Guiscard.
Relationships
Edit
Pedelaus and Bodin knew each other, and the latter orders a massive execution of Parsians when he was made aware of Pedelaus' assassination.
References
Edit