Pedelaus (ペーデラ, Pēdera? ) is a Lusitanian count, bishop of the Church of Yaldabaoth and a member of the court. He is a minor character of the Novel Series The Heroic Legend of Arslan.
Appearance
Edit
2013 Manga
Edit
In the 2013 manga, Pedelaus is a muscular but elderly man who has a moustache and a chin curtain beard. He is bald. He wears the standard Lusitanian army garbs and wears a crucifix on his neck.
Personality
Edit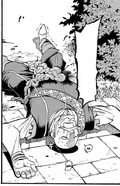 Pedelaus is a strongly follower of Yaldabaoth's faith, who doesn't show remorse in killing babies, loving to describe how he sadistically killed a family of heathens.
Relationships
Edit
Pedelaus and Bodin knew each other, and the latter orders a massive execution of Parsians when he was made aware of Pedelaus' assassination.
References
Edit
Ad blocker interference detected!
Wikia is a free-to-use site that makes money from advertising. We have a modified experience for viewers using ad blockers

Wikia is not accessible if you've made further modifications. Remove the custom ad blocker rule(s) and the page will load as expected.